"Never, ever argue with the system", says entrepreneur and author of Trend Following Michael Covel. Of course, he's referring to the trading system or strategy that professional traders develop to keep them on track with their trading goals. Nevertheless, it's important to have a 6 monitor setup that you can trust to be fast and reliable. In fact, check out these computer options recommended for professional traders. You can also send your name, email address to get updates if you prefer.
6 Tips to Maximize your 6 Monitor Setup for Trading 
Virtually anyone can install their setup and start trading. This is possible because of all the digital tools and trading platforms that are accessible to anyone with Windows 10 or Mac. There are naturally some differences between what you can access on each system but either way, you could be trading today if you choose to.
It's worth noting that trading might look easy but you need to learn about the markets and statistical analysis tools. On top of that, you need to work out what type of trader you want to be and what risk appetite you have. For instance, it's very different being a day trader focused on short-term market changes versus position traders who hold trades for weeks, months, and maybe even years.
1- Choose your broker platform 
There are many ways to use a brokerage platform on your monitor setup. You can either trade yourself or you can get a professional trader to trade on your behalf. Whatever you decide, you should still understand their trading strategy as well as their risk management approach.
Clearly, you should also check the fees and how easy it is for you to withdraw your money from the system. Once you're happy, make sure you decide which monitor to display your broker platform because you'll want to keep an eye on it. For example, day traders might need to send instant messages through the platform to exit a trade. You don't want to waste valuable minutes waiting for the platform to open.
2- Design your layout 
Every trader has their own workflow and particular charts they want to follow with their 6 monitor setup. First, you'll have to think about which are your must-have charts according to what securities you trade.
You'll then use multiple monitor setups to view various time frames often in minutes, hours, or weeks. Many traders then also follow indices such as S&P and Nasdaq with their display.
All this is possible because of your integrated graphics card and monitor resolution. The graphics card, or video card, is an important component because this is what updates your charts and graphs quickly and efficiently. Any delay in updates could cost you money. So, make sure you get the top brands for graphics cards which are Radeon and NVIDIA.
In terms of resolution, most traders go for a 24-inch screen and 1080 pixels for their setup. This is usually a good balance of quality with a budget. Then again, some prefer going for a 27-inch screen display and 1440 pixels. The choice is yours.
3- Follow news sources
Depending on which securities you follow, you might have various news, government, and company update that you need. Make sure you use all the space across your setup. Then again, it's easy to get carried away and display too much information. So, plan ahead and think about what's important.
4- Separate your time frames
It's helpful to arrange your time frames separately so that those you need the most are in the center. Those that you refer to less but still matter to you can be on the side of your 6 monitor setup.
5- Keep it simple 
There's so much information you could potentially run across your multi-monitor setup so it's important to avoid getting overwhelmed. Always remember to keep things simple and be ruthless in removing anything that's only a nice-to-have. Although, that's why many new traders use a dummy account to practice before trading on the markets.
6- Group similar information 
To help you keep things simple, you can prioritize the different bits of information you need for the various parts of your trading process. The less you have to move your head, the more efficient your experience. So, for example, your short time frame charts should be right in front of you in the more center.
7- Ergonomics 
The great advantage of home trading is that you can plan your day according to your strategy. If you opt for being a day trader, you'll most likely be in front of your 6 monitor screen all day. Position traders can check in when they want and don't have to be online so much. Either way, you want to be comfortable when working with your 6 monitor setup.
So, make sure you get the right chair and desk to give you space without straining. Then, check your ports and try to arrange your multiple monitors set up so that your cables don't have too far to reach for the power supply unit. No one wants to be tripping over leads, especially mid-trade. As an aside, cables come as one of the following: HDMI, VGA, DVI, USB or DisplayPort.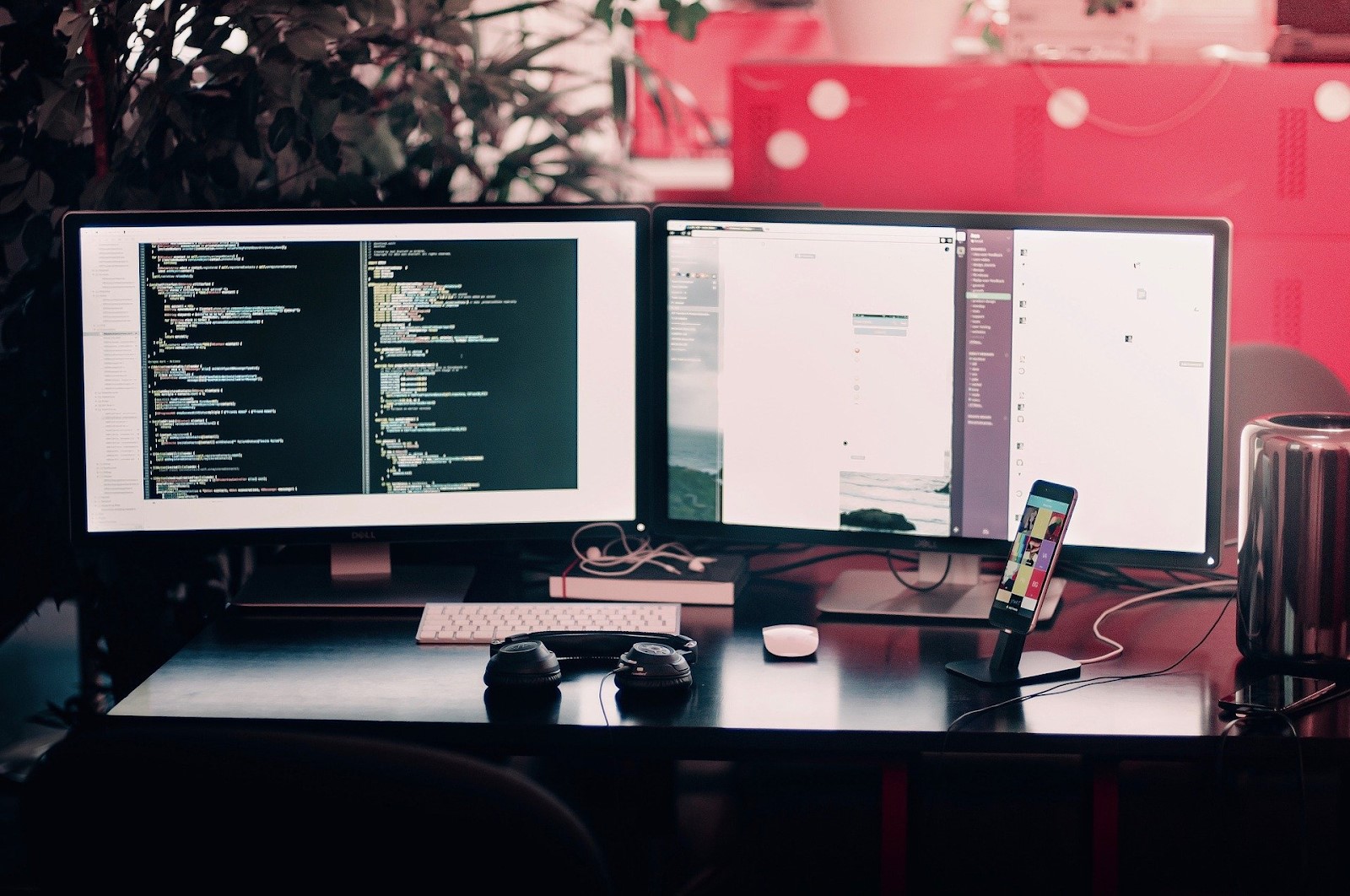 Final Recommendations for Traders to Maximize their 6 Monitor Setup 
Maximizing your 6 monitor setup for trading means planning ahead. Once you've determined your trading style and your strategy, you'll know what charts you need. You'll then be able to lay them out across your multiple monitor setup. Of course, you can opt for two, three, or 6 monitors. Ultimately, how you work with your equipment might take a bit of trial and error. So, have fun with it, explore and discover what it means to be a trader with an awesome multi-monitor setup.