Introduction
pii_email_951913e90540eed3d7f2: When we converse about working with email, Microsoft Outlook is the first and best alternative. All customers and contacts can edit in one step.
Outlook is known for quite rare errors that occur when working with multiple emails. Among all the errors there is an MS Outlook error pii_email_951913e90540eed3d7f2 The Microsoft error [pii_email_951913e90540eed3d7f2] can be seen and recognized for many reasons. Besides, this article explains why MS-Outlook frequently shows errors such as pii_email_951913e90540eed3d7f2 and how we can resolve them.
Also Read: Repair Microsoft Outlook error [pii_email_4dd09cddea0cd66b5592]? -2021
Reasons Of Error Code [Pii_Email_951913e90540eed3d7f2]
Take a look at the likely reasons or cause pii_email_951913e90540eed3d7f2 inaccuracy.
The error code pii_email_951913e90540eed3d7f2 causes due to too many reports are processing in one step.
The error code pii_email_951913e90540eed3d7f2 may be due to an incomplete Outlook document. You can try updating your applications.
Cached documents can be extensive. Sometimes you can try cleaning them.
If you are using a crashed version of MS Outlook, you can usually observe this error. The interruption leads to wrong document combinations causing pii_email_951913e90540eed3d7f2 error in MS Outlook.
Try using Microsoft Outlook Net to avoid receiving this error code. pii_email_951913e90540eed3d7f2 The error only occurs when scheduling MS Outlook.
How to Solve Microsoft Outlook Pii_Email_951913e90540eed3d7f2 Errors?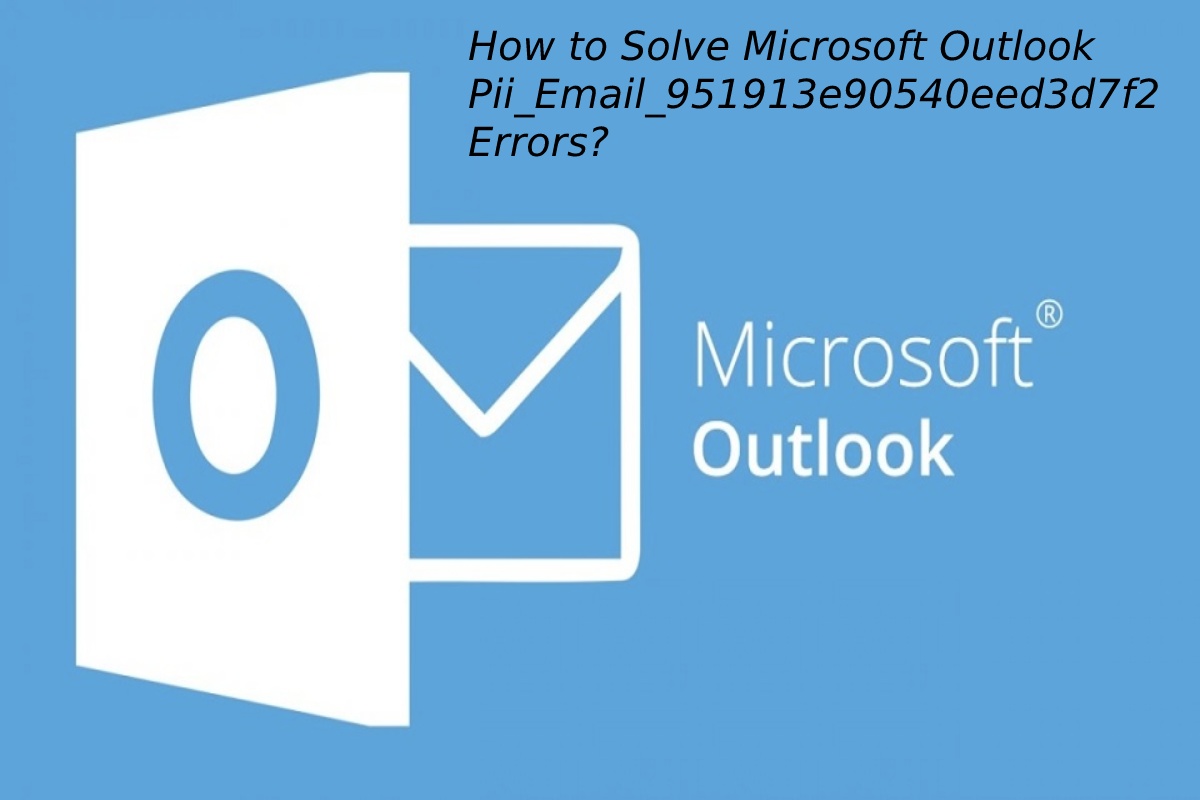 Listed below are the Microsoft Outlook Pii errors that you may encounter. However, the important thing is that you can solve them all with the steps above.
MS Outlook
Each application/program creates the store and processes files to alleviate the customer base. In either case, customers who don't remove them can join in and discover the bug.
Anyway, you need to remove the speech bubbles after a month or two after MS Outlook applications to extract the error code pii_email_951913e90540eed3d7f2.
After removing the store and speech bubbles from MS Outlook, you will need to restart the program to help this progress.
Optionally restart the gadget to get the foreign settings and get the results from pii_email_951913e90540eed3d7f2.
After effectively restarting your application, start Microsoft Outlook to see if the error code pii_email_951913e90540eed3d7f2 is equally provocative. If so, follow method two below.
Using MS-Outlook Web Program
MS Outlook web program is the best way to use MS Perspective Highlights. You never get an error code pii_email_951913e90540eed3d7f2.
Click this link to use the MS Outlook web program.
Others are unique in terms of their use.
Use an internet application instead of viewing it
Upgrade to the New Outlook Version
pii_email_951913e90540eed3d7f2; the error code is much more hierarchical; this is an experienced version of Outlook.
Remove the installed Outlook settings and download the latest form from Microsoft's official site.
You can fix Outlook error code [pii_email_951913e90540eed3d7f2] and can currently use it without errors.
Contact Microsoft Support or Help Centre
The above approach to handling [pii_email_951913e90540eed3d7f2] errors works fine. However, these approaches quickly process [pii_email_951913e90540eed3d7f2] from MS Outlook.
When you receive the error code [pii_email_951913e90540eed3d7f2], contact Microsoft at this time. They will help you correct this error.
Reference: Answerhop
Related Searches:
[pii_email_1a85c09ee7a236c446b6] [pii_email_b50f2487ad88cad5488f] [pii_email_9c55590039c2c629ec55] [pii_email_7aa1063d0d4a455b59e4] [pii_email_e22b23fa9dff05c94424] [pii_email_e7c410e5e6fee72ca67d] [pii_email_22e85382f7dc146ba521] [pii_email_3ab3cc43cc1e13a096b4] [pii_email_61961f23fa6a16c0cf3e] [pii_email_12e95e5cac8028acce08] [pii_email_eb52b7773a59a4ecc92f] [pii_email_951913e90540eed3d7f2] [pii_email_3e40d0a6420a0f8b5bfb] [pii_email_9adeb2eb81f173c673a5] [pii_email_aedc4a3be3428a5007f5] [pii_email_92cb35c247cbd9428857] [pii_email_b50f2487ad88cad5488f] [pii_email_ffa4dae37cdfac16e8d7] [pii_email_2c6d2da7924176e83f00] [pii_email_5b2bf020001f0bc2e4f3] [pii_email_f33f24d9f2e16b70be76] [pii_email_5553f4e1b087aa7bb88b] [pii_email_62431a703831ac10ec88] [pii_email_a1cc7b70d50b46098459] [pii_email_8f11625d0a000b277df2] [pii_email_b9293670572baa1f4721] [pii_email_fa726aae9810c9f726a1] [pii_email_e2bfd865341b76f055e2] [pii_email_0a5062fb70a2a343f369] [pii_email_c752da6d57c276815ca2] [pii_email_ed48e0db261ba6ca800d] [pii_email_921c2c8abf6264fa57fd] [pii_email_8d4598c46b27c2829ba0] [pii_email_169fd43b817e470ae301] [pii_email_9c55590039c2c629ec55] [pii_email_206d8398c02a8b733263] [pii_email_6bd2238a127f689f5ee8] [pii_email_fc52c843021e7f39d423] [pii_email_0f5d13fdd444218ce923] [pii_email_9adeb2eb81f173c673a5] [pii_email_6ff7418f799074696370] [pii_email_8fe0f671b361c8ac5776] [pii_email_7626800840576d24b18c] [pii_email_676ae6d291aefbb083eb] [pii_email_e7f71c0780ae9baa16c2] [pii_email_bc0a4c46ed25ca97d421] [pii_email_6f56161c74f95924012e] [pii_email_53d8fb431ca7df16bb36] [pii_email_21cd523c1657a8f83522] [pii_email_e81149aedf5163435430] [pii_email_6d58080b4b0962443f2d] [pii_email_5b7450b3c52ee3dc0fbe] [pii_email_802a5f65218f5d9d23b7] [pii_email_c597d14b1eca08517963] [pii_email_1636a48bbad506fb6d79] [pii_email_986f4eac5e8bf844dc05] [pii_email_bd0744593dbd02cfcde0] [pii_email_f9bfddf3103f659807df] [pii_email_d27ce59dbbab3d399dd3] [pii_email_1d6e2d7bc212760b7714] [pii_email_8a04977c69230edb9e5e] [pii_email_8d527d394345cf85ee4b] [pii_email_c68bb3a0b8e97426cdd8] [pii_email_af270c373dcdfba790c0] [pii_email_4f756e6f0b8aa8e6c202] [pii_email_2fddfbb0980f976d217c] [pii_email_eed2460d504c647bb1aa] [pii_email_9adeb2eb81f173c673a5] [pii_email_f2b2de632a0367c81cd1] [pii_email_3a4de1ed75a7e06d7e60] [pii_email_2f385998c5e3f9e2d52d] [pii_email_ede4508531a11ede4b07] [pii_email_e8bd8b5c3e6ba7551a13] [pii_email_e67083c08bf2e787f61f] [pii_email_10cb866b0b8f268f4a27] [pii_email_10d8fbf5990e8bc4788e] [pii_email_8570bec3a66cb5d17cd3] [pii_email_e31e39ee685f3bae9c23] [pii_email_ddea34e9bcc0386cbdf8] [pii_email_ee99de5adf4f85e97c9e] [pii_email_fa857eec05e5a3cd13e3] [pii_email_9adeb2eb81f173c673a5] [pii_email_bbc3ff95d349b30c2503] [pii_email_3a9d3c10845f8b9d77b2] [pii_email_be5f33dbc1906d2b5336] [pii_email_c742a940ba384394925d] [pii_email_4bd3f6cbbb12ef19daea] [pii_email_4a54df77285983c5da74] [pii_email_ea7f2bf3c612a81d6e28] [pii_email_07e5245661e6869f8bb4] [pii_email_11fe1b3b7ddac37a081f] [pii_email_6b2e4eaa10dcedf5bd9f] [pii_email_355f99a9c684c0f15d2c] [pii_email_37f47c404649338129d6] [pii_email_b47d29538f12c20da426] [pii_email_9adeb2eb81f173c673a5] [pii_email_e6685ca0de00abf1e4d5] [pii_email_9adeb2eb81f173c673a5] [pii_email_aef67573025b785e8ee2] [pii_email_cbd448bbd34c985e423c] [pii_email_84e9c709276f599ab1e7] [pii_email_037d07812f905a3927ae] [pii_email_c1646d6cd617ef1be6ab] [pii_email_4dd09cddea0cd66b5592] [pii_email_019b690b20082ef76df5] [pii_email_f3e1c1a4c72c0521b558] [pii_email_cb926d7a93773fcbba16] [pii_email_9adeb2eb81f173c673a5] [pii_email_af9655d452e4f8805ebf] [pii_email_a5e6d5396b5a104efdde] [pii_email_ec4f22c28919a953e74e] [pii_email_066f1e5f1e4576b47760] [pii_email_1606b61a08e6a2cf4db9] [pii_email_dfe907e4982308153863] [pii_email_bc0906f15818797f9ace] [pii_email_e1aa8f4deb45ecd93b2a] [pii_email_07cac007de772af00d51] [pii_email_fac20b28ca7fd86484f1] [pii_email_e7ab94772079efbbcb25] [pii_email_c75373ce5b34bf577425] [pii_email_cd4b80dbd951adb0d4dd] [pii_email_9adeb2eb81f173c673a5] [pii_email_8fac9ab2d973e77c2bb9] [pii_email_9ba94c086590853d8247] [pii_email_387fb3a7cd2b118358b8] [pii_email_844c7c48c40fcebbdbbb] [pii_email_029231e8462fca76041e] [pii_email_5439177ede8301c50c44] [pii_email_027301e7af80ce24cbce] [pii_email_f471d3ee8613f77bd6e2] [pii_email_57bde08c1ab8c5c265e8] [pii_email_9adeb2eb81f173c673a5] [pii_email_0cbbda68c705117dc84f] [pii_email_e80c99419553948887a9] [pii_email_b4969755ef6881519767] [pii_email_3ceeb7dd155a01a6455b] [pii_email_c5b4711fb519dab7145a] [pii_email_a4afd22dca99c2593bff] [pii_email_9f2fe6037cc1578fa726] [pii_email_84eb7572bd91baae7e9f] [pii_email_e188285bdb71eb7570eb] [pii_email_9adeb2eb81f173c673a5] [pii_email_338034f14d68ea443925] [pii_email_123dd92c65546aac4234] [pii_email_eba7eaeb6d025a2475b2] [pii_email_9848f1804272c9b4eaf4] [pii_email_1d0a7b8b7bc517bcc729] [pii_email_57bde08c1ab8c5c265e8] [pii_email_fbfd5d78693fd0b03741] [pii_email_7cc4c1036b3de58e1c72] phone number [pii_pn_0517eb15f9f0c7b0] [pii_pn_6a0fb39258490524] [pii_pn_baadcf87c1bec37f] [pii_pn_202f0062e3a9eba7] [pii_pn_9bd080d5e358df32] [pii_pn_7ab7c00e23412f17] [pii_pn_e13d9b375c02f502] [pii_pn_48099e940544f41c] [pii_pn_eb9117fef4c43cd9] [pii_pn_60d4e6c18f72c804] [pii_pn_10a1046621cbbd18] [pii_pn_d09ef13ad44ba3b9] [pii_pn_65fac9e34d41ed91] [pii_pn_b9bb4f37fe2d7c63] [pii_pn_19cff4d0fbfef971] [pii_pn_6cf449519ddf258c] [pii_pn_1b277654f8a12e2c] [pii_pn_a746a055e2aa8260] [pii_pn_c592f24ce51ad9b7] [pii_pn_3f90cc65de3efb9a] [pii_pn_f1de5ed018ca4655] [pii_pn_f5347b0c813c0051] [pii_pn_341915f22dd30f8e] [pii_email_8733ecf20b402e8655fa] [pii_pn_4c152c1cfc406a45] [pii_pn_59942878d4d1befd] [pii_email_191e8e729dfc2454e1eb] [pii_pn_97b9eafcebb232fd] [pii_email_7c87eed8cbd58f104f77] [pii_email_4984542b4c220d44b31c] [pii_email_2c1d1032d0ede2b268fb] [pii_pn_f5fa4f653e00dcc2] [pii_pn_d590168babd433c4] [pii_pn_a9adab9b6180d52a] [pii_pn_32802a5390ae8401] [pii_pn_7bc0d61b2e1958d8] [pii_pn_2b8de6b9b7c5eea9] [pii_pn_ad644b30cce51795] [pii_pn_08f3ddc2d7cf1ec2] [pii_pn_30128359354db572] [pii_pn_e86f3e1204164bd8] [pii_pn_80992c904c8b0a42] [pii_pn_eae599f38c0676ed] [pii_pn_c0570bab2c4cd46b] [pii_pn_0fdebdad7cb59361] [pii_pn_1eb162cda1a63f34] pii_email_4dd09cddea0cd66b5592
[pii_pn_f1aae428989512bf] [pii_pn_cbad6efaaf86308f] [pii_pn_27597fb89d5c3a11] [pii_email_c44daf3db584541df034] [pii_pn_463d2b684a0a97ff] [pii_pn_94dd2691572e8772] [pii_pn_9f4c79a436509625] [pii_pn_55cf079599d15e2e] [pii_pn_8fc29cb432509689] [pii_pn_a3bbd74ab205aebf] [pii_pn_a8af724b4dcaacc2] [pii_pn_bb632f63e6f0ee0f] [pii_pn_a649c60ac8be312b] [pii_email_2cbb7f11f01eeab314aa] [pii_email_3366d1e3a6f49edb5169] [pii_email_dfe3cf3209d9aaaf6d66] pii_email_4dd09cddea0cd66b5592
[pii_pn_7b5c87b3571b2841] [pii_pn_4aa8708e14f7dcd4] [pii_email_7a21a39598eeee5233be] pubg mobile [pii_email_4c599dd17aabe5c9238d] [pii_pn_830292562ea03833] [pii_pn_9bb5035d15266c69] [pii_pn_4db60d6494633530] [pii_email_12d41ada18ab0d31] [pii_pn_a49659d25199afb9] [pii_pn_eef44f296dbb8608] [pii_pn_b46fd3515861e012] pii_email_4dd09cddea0cd66b5592
[pii_pn_9a7e5565beadbc77] [pii_pn_457bf47cb732727c] [pii_pn_f4e6550a7a20e081] [pii_pn_df430e518f67e67c] [pii_pn_081f97f2e0883eac] [pii_pn_1c5f52c20f274a99] [pii_pn_21e4436c2c750b11] [pii_pn_32cf167bb27bc571] [pii_pn_221b20a2046ee870
[pii_pn_c893c547f7ccfc97] [pii_email_09c625b0f54cbc2e5746] [pii_email_58a6a619fc3ea359fade] [pii_pn_ff3ea3d70815d231] [pii_email_8f18258dc1b36618360a] pii_email_4dd09cddea0cd66b5592
[pii_email_6815f7bf7c5658248ead] [pii_email_b10021fffd36b6c57aff] [pii_pn_a309755e60e68aed] [pii_pn_26d6c808c4940f5a] [pii_pn_0669a9585e8a24e7] [pii_pn_653de77147bbb3ca] [pii_pn_707b7afb0626194d] [pii_pn_4b66a60bd366438b] [pii_pn_d165133e769447b3] [pii_pn_bc622e0872696b21] [pii_pn_15608a3ca5d8a63f] [pii_pn_4a7cda7ed9048cb0] [pii_pn_9ef6242bea1a4634] [pii_pn_33ed7d4901506fb6] [pii_pn_5e3656310ff0995b] [pii_pn_bc5a9b5d02c32fa8] [pii_pn_314ca699b48691c0] [pii_pn_73da4a4f9ab02445] [pii_pn_45c1f34aafe1f4e5] [pii_pn_4fa557cca14363ec] [pii_pn_9b72d852fa803cbb] [pii_email_95e3d95939b7c086c3ab] [pii_email_6db62fb3f1aa83bd2e0a] timothy duncan linda duncan 9530 iris way
[pii_pn_fed9af3a34e608d7] [pii_email_9848f1804272c9b4eaf4] passport requirements [pii_passport_a992764331125c0c] [pii_email_1d0a7b8b7bc517bcc729] [pii_email_57bde08c1ab8c5c265e8] [pii_email_fbfd5d78693fd0b03741] [pii_email_4dd09cddea0cd66b5592] [pii_email_7cc4c1036b3de58e1c72] phone number [pii_pn_0517eb15f9f0c7b0] [pii_pn_6a0fb39258490524] [pii_pn_baadcf87c1bec37f] [pii_pn_202f0062e3a9eba7] [pii_pn_9bd080d5e358df32] [pii_pn_7ab7c00e23412f17] [pii_pn_e13d9b375c02f502] [pii_pn_48099e940544f41c] [pii_pn_eb9117fef4c43cd9] [pii_pn_60d4e6c18f72c804] [pii_pn_10a1046621cbbd18] [pii_pn_d09ef13ad44ba3b9] [pii_pn_65fac9e34d41ed91] [pii_pn_b9bb4f37fe2d7c63] [pii_email_a32d8b04996f6ae8eeb0] [pii_pn_19cff4d0fbfef971] [pii_pn_6cf449519ddf258c] [pii_pn_1b277654f8a12e2c] [pii_pn_a746a055e2aa8260] [pii_pn_c592f24ce51ad9b7] [pii_pn_3f90cc65de3efb9a] [pii_pn_f1de5ed018ca4655] [pii_pn_f5347b0c813c0051] [pii_email_1a85c09ee7a236c446b6] [pii_email_ffa4dae37cdfac16e8d7] [pii_email_fc52c843021e7f39d423] [pii_email_5553f4e1b087aa7bb88b] [pii_email_53d8fb431ca7df16bb36] [pii_email_802a5f65218f5d9d23b7] [pii_email_b50f2487ad88cad5488f] [pii_email_0a5062fb70a2a343f369] [pii_email_e22b23fa9dff05c94424] [pii_email_7626800840576d24b18c] [pii_email_8f11625d0a000b277df2] [pii_email_b50f2487ad88cad5488f] [pii_email_f33f24d9f2e16b70be76] [pii_email_d27ce59dbbab3d399dd3] [pii_email_206d8398c02a8b733263] [pii_email_921c2c8abf6264fa57fd] [pii_email_f9bfddf3103f659807df] [pii_email_a1cc7b70d50b46098459] [pii_email_b50f2487ad88cad5488f]>
[pii_email_ee99de5adf4f85e97c9e] [pii_email_169fd43b817e470ae301] [pii_email_2c6d2da7924176e83f00] [pii_email_eed2460d504c647bb1aa] [pii_email_676ae6d291aefbb083eb] [pii_email_8d527d394345cf85ee4b] [pii_email_4f756e6f0b8aa8e6c202] [pii_email_951913e90540eed3d7f2] [pii_email_e8bd8b5c3e6ba7551a13] [pii_email_c68bb3a0b8e97426cdd8] [pii_email_e7c410e5e6fee72ca67d] [pii_email_10cb866b0b8f268f4a27] [pii_email_6f56161c74f95924012e] [pii_email_fa857eec05e5a3cd13e3] [pii_email_bc0a4c46ed25ca97d421] [pii_email_e81149aedf5163435430] [pii_email_2c6d2da7924176e83f00].
[pii_email_ed48e0db261ba6ca800d] [pii_email_f9bfddf3103f659807df] [pii_email_e31e39ee685f3bae9c23] <[pii_email_7626800840576d24b18c]>
[pii_email_61961f23fa6a16c0cf3e] [pii_email_bd0744593dbd02cfcde0] [pii_email_8570bec3a66cb5d17cd3] [pii_email_b50f2487ad88cad5488f] [pii_email_22e85382f7dc146ba521] [pii_email_093e2516ba38e884df17] [pii_email_c263456df47efa5b0135] [pii_email_68e84acaa113cfec3723] [pii_email_65cb48a309da84008fa5] [pii_email_4684c99ee3e2d18018fe] [pii_email_2df98d8037abbd28470f] [pii_email_4960c511645b5be1844d] [pii_email_794aed3c21a59e4f9316] [pii_email_b926e7143cf6383ce8e4] [pii_email_d62969eb7db6476603a2] [pii_email_7dc4d5d28bfc05991e76] [pii_email_e0d0388f9ff86cc9a701] [pii_email_fe1f97628f60ad571ab0] [pii_email_66ea558e07f2a6581c58] [pii_email_e67083c08bf2e787f61f] [pii_email_4fc42c450927d30d57d3] [pii_email_dd3b02b85804db6865b4] [pii_email_7f4e23740c123c1266f9] [pii_email_99969a3a32883f5c5a17] [pii_email_6fc90cb0ab34c012b123] [pii_email_8940e3998360017feee8] [pii_email_766f33432bea15e241b5] [pii_email_925ef5246a9440976b2a] [pii_email_e1c175b22c7007be609e] [pii_email_cf12940823182734ea28] [pii_email_093e2516ba38e884df17].
[pii_email_5fb737fbd54edb104dd4] [pii_email_7420700b897d36ec2cdd] [pii_email_c7639f71a8b289854dc6] [pii_email_ff901146c0e99095f264] [pii_email_15de6bffdaa1a0d7e116] [pii_email_48636f7fbde9d23d8619] [pii_email_2b22059ab296c6c248ac] [pii_email_a61a19cf76f64bbdeb12] [pii_email_cc646069e7799c5be8dc] [pii_email_b9bbf35f6e0b860b7300] [pii_email_a29b8b6230621bcecfac] [pii_email_ce6e8b3bf1dec39be125] [pii_email_c4943939028e7dae09fb] [pii_email_e9c124328e21689497de] [pii_email_3fc351b8ae0b60fd5b85] [pii_email_5a1acd6fb38fc4fa6611] [pii_email_68bfca2dc37dc31ea5b3] [pii_email_8bbb99e194837d658325] [pii_email_31cf5b06c8a73cd3bb23] [pii_email_9adeb2eb81f173c673a5] [pii_email_c752da6d57c276815ca2].
[pii_email_fa726aae9810c9f726a1] [pii_email_6d58080b4b0962443f2d] <[pii_email_e2bfd865341b76f055e2]>
[pii_email_8a04977c69230edb9e5e] [pii_email_eb52b7773a59a4ecc92f] [pii_email_986f4eac5e8bf844dc05] [pii_email_e8bd8b5c3e6ba7551a13] [pii_email_21cd523c1657a8f83522] [pii_email_b9293670572baa1f4721] [pii_email_f2b2de632a0367c81cd1] [pii_email_bc0a4c46ed25ca97d421].
[pii_email_6bd2238a127f689f5ee8] [pii_email_c752da6d57c276815ca2] [pii_email_1d6e2d7bc212760b7714] [pii_email_1636a48bbad506fb6d79] [pii_email_aedc4a3be3428a5007f5] [pii_email_7aa1063d0d4a455b59e4].
[pii_email_ddea34e9bcc0386cbdf8] [pii_email_af270c373dcdfba790c0] [pii_email_10d8fbf5990e8bc4788e] [pii_email_3a4de1ed75a7e06d7e60] [pii_email_3a4de1ed75a7e06d7e60] [pii_email_3e40d0a6420a0f8b5bfb] [pii_email_3a4de1ed75a7e06d7e60] [pii_email_3a4de1ed75a7e06d7e60] [pii_email_8fe0f671b361c8ac5776] [pii_email_10d8fbf5990e8bc4788e] [pii_email_e2bfd865341b76f055e2] [pii_email_92cb35c247cbd9428857] [pii_email_10d8fbf5990e8bc4788e] [pii_email_7aa1063d0d4a455b59e4] [pii_email_10d8fbf5990e8bc4788e] [pii_email_12e95e5cac8028acce08] [pii_email_0f5d13fdd444218ce923] [pii_email_c597d14b1eca08517963] [pii_email_ede4508531a11ede4b07] [pii_email_6ff7418f799074696370] [pii_email_8d4598c46b27c2829ba0].
[pii_email_8d4598c46b27c2829ba0] [pii_email_e7f71c0780ae9baa16c2] [pii_email_5b7450b3c52ee3dc0fbe] [pii_email_6d58080b4b0962443f2d] [pii_email_355f99a9c684c0f15d2c] [pii_email_093e2516ba38e884df17] [pii_email_c263456df47efa5b0135] [pii_email_68e84acaa113cfec3723] [pii_email_65cb48a309da84008fa5] [pii_email_4684c99ee3e2d18018fe] [pii_email_2df98d8037abbd28470f] [pii_email_4960c511645b5be1844d] [pii_email_794aed3c21a59e4f9316] [pii_email_b926e7143cf6383ce8e4] [pii_email_d62969eb7db6476603a2] [pii_email_7dc4d5d28bfc05991e76] [pii_email_e0d0388f9ff86cc9a701] [pii_email_fe1f97628f60ad571ab0] [pii_email_66ea558e07f2a6581c58] [pii_email_e67083c08bf2e787f61f] [pii_email_4fc42c450927d30d57d3] [pii_email_dd3b02b85804db6865b4] [pii_email_7f4e23740c123c1266f9] [pii_email_99969a3a32883f5c5a17] [pii_email_6fc90cb0ab34c012b123] [pii_email_8940e3998360017feee8] [pii_email_766f33432bea15e241b5] [pii_email_925ef5246a9440976b2a] [pii_email_e1c175b22c7007be609e] [pii_email_cf12940823182734ea28] [pii_email_093e2516ba38e884df17].
[pii_email_5fb737fbd54edb104dd4] [pii_email_7420700b897d36ec2cdd] [pii_email_c7639f71a8b289854dc6] [pii_email_ff901146c0e99095f264] [pii_email_15de6bffdaa1a0d7e116] [pii_email_48636f7fbde9d23d8619] [pii_email_2b22059ab296c6c248ac] [pii_email_a61a19cf76f64bbdeb12] [pii_email_cc646069e7799c5be8dc] [pii_email_b9bbf35f6e0b860b7300] [pii_email_a29b8b6230621bcecfac] [pii_email_ce6e8b3bf1dec39be125] [pii_email_c4943939028e7dae09fb] [pii_email_e9c124328e21689497de] [pii_email_3fc351b8ae0b60fd5b85] [pii_email_5a1acd6fb38fc4fa6611] [pii_email_68bfca2dc37dc31ea5b3] [pii_email_8bbb99e194837d658325] [pii_email_31cf5b06c8a73cd3bb23] [pii_email_9adeb2eb81f173c673a5]